Fake immigration website pretending to be EUROMIG
Some people have brains and imagination, and some do not. When you have no brain, you try to copy what others have created. To earn pennies because you couldn't steal enough.
This happened to unfortunate people from Belarus / Poland / Ukraine who were born without a brain and imagination, so they decided to copy our project EUROMIG, which has been in existence for over 10 years, and the website and domain euromig.com were created in 2011. They made a copy on domain euromig.by, imitated our logo and the EuroMIG trademark, and they, like us, offer help with immigration to the European Union – we have been providing these services for over 10 years.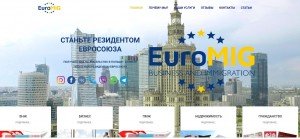 Intelligent people do not trust copies, so copiers need to think of ways to make people trust them – they try to write fake recommendations, good reviews, try to convince a potential buyer that their product (stolen copy of the original) is worth something and worth buying.
Here are some screenshots of these thieves' website that show fictitious, fake information, such as fake reviews (it's impossible for a baby born 1 month ago to have helped Tatyana get a residence permit 2 years ago, etc.). You can check their affiliation with the Globaljobs organization they declare and also you can see clearly at the bottom of the site when it was created. The fraudsters do not even have the intelligence to hide apparently mismatched information.
Unfortunately, we realize that it is impossible earn real capital from such scams, and that you will not earn the respect of the people that way. We wish these thieves and people with limited understanding to grasp and try to create something of their own, something real, not copied.
We are only a little ashamed that we have devoted so much attention to such poor mind people.
We wish everyone to be healthy, resourceful, to earn the respect of people with their minds and deeds!
---
Our company offers services of immigration to Europe, mainly immigration to Lithuania, accounting services, assistance in obtaining residence permit in Lithuania, limited company registration. With help of EUROMIG consultants you can buy new limited company, sell company, buy ready made business, etc.
If you want to order our services of company registration in Lithuania, buying company, getting residence permit in Lithuania or others, please:
Write us using contact form at the bottom of the page
Contact us by email info@euromig.com

Call us:
Main office: + 370 684 55988
Business – consultant Artur: +370 679 44266
Business – consultant Ekaterina: +370 655 45547
Skype euromig.baltic